ANTIQUE ARMS ANNUAL Edited by R. L. Wilson
1st
edition, 1971, a large book, 262 pages, filled with beautiful engraved, casehardened and gold Winchesters, Colts and others in color and black and white. Edited by R. L. Wilson, published by S P. Stevens. Pages are in excellent condition, cover has slight wear and half inch tear on front cover, with orginal shipping carton.
24th, 26th and 27th editions.
Copyright 1959, new condition.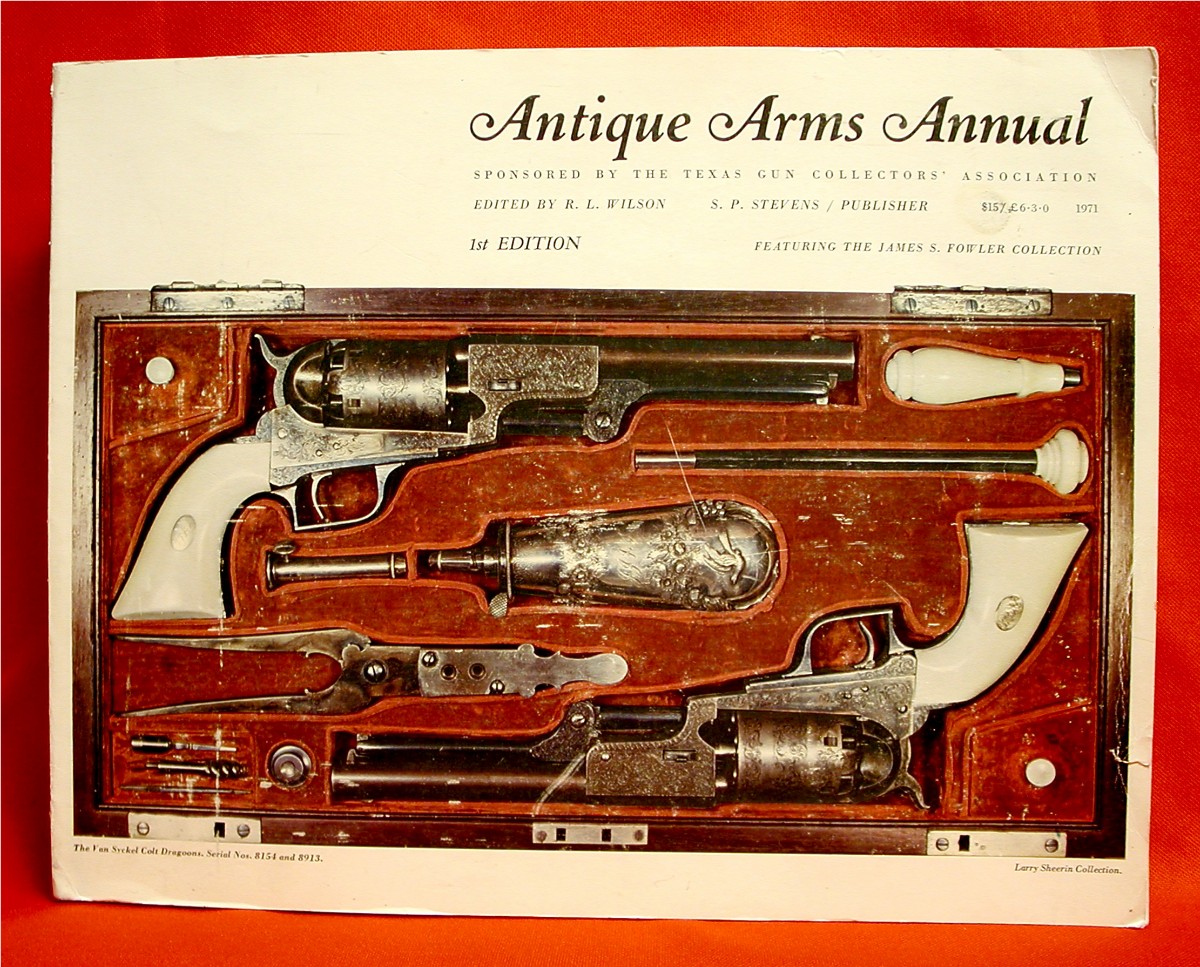 BLUE BOOK OF GUN VALUES by S. P. Fjestad
15th, 16th and 18th editions.
CATALOG COLLECTION OF 20TH CENTURY
WINCHESTER REPEATING ARMS CO.
COLLECTING COUNTRY & WESTERN AMERICANA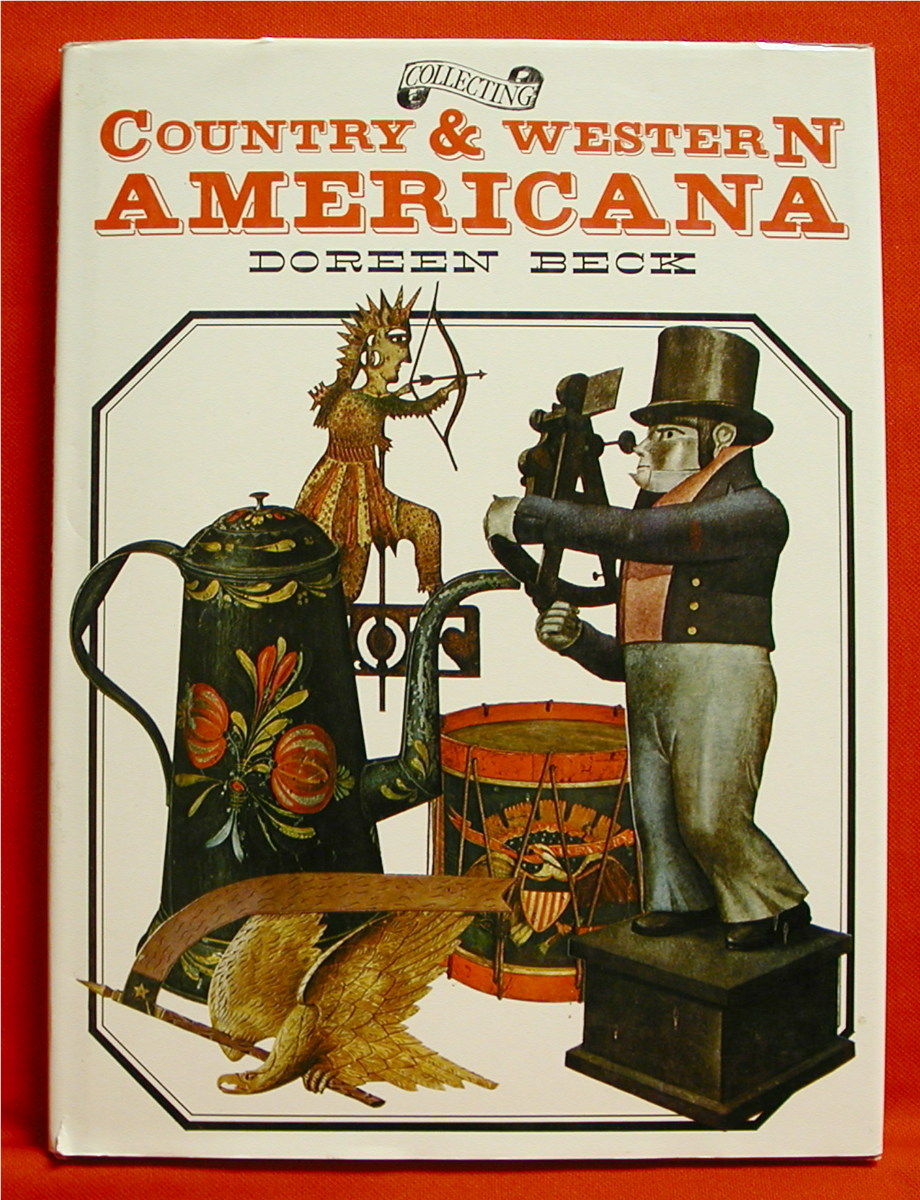 COLT COMMEMORATIVE FIREARMS by R. L. Wilson
Published by Charles Kidwell 1969, excellent to new condition.
THE COLT COMMEMORATIVES 1961-1986
by Ken Condry & Larry Jones
Published in 1989 by Taylor Publishing Company, new condition.
COLT D.A. REVOLVER by Don Wilkerson
Model of 1878, new condition.
COLT PEACEMAKER ENCYCLOPEDIA, VOLUME I
1st Edition, excellent to new condition.
CUSTER BATTLE GUNS by John S. du Mont
2nd Edition, 1977. Book is new condition. Dust cover, only sight wear at corners.
EARLY PERCUSSION FIREARMS by Lewis Winant
FLAYDERMAN'S GUIDE TO ANTIQUE AMERICAN FIREARMS
THE HISTORY & DEVELOPEMENT OF SMALL ARMS AMMUNITION
(Volume One) by George A. Hoyem
1981 edition in new condition, hardcover, green leatherette, dust jacket new condition.
HISTORY OF THE COLT REVOLVER by Haven & Belden
Gun and rifle manufacturers, Armory publication, reprint.
JOHN M. BROWNING, AMERICAN GUN MAKER
Authentic biography of "the world's greatest gun inventor".
THE NEW OFFICAL GUN BOOK - Edited by Charles R. Jacobs
THE LUGER PISTOL (PISTOL PARABELLUM) ITS HISTORY
AND DEVELOPMENT FROM 1893 - 1945 by Fred A. Dati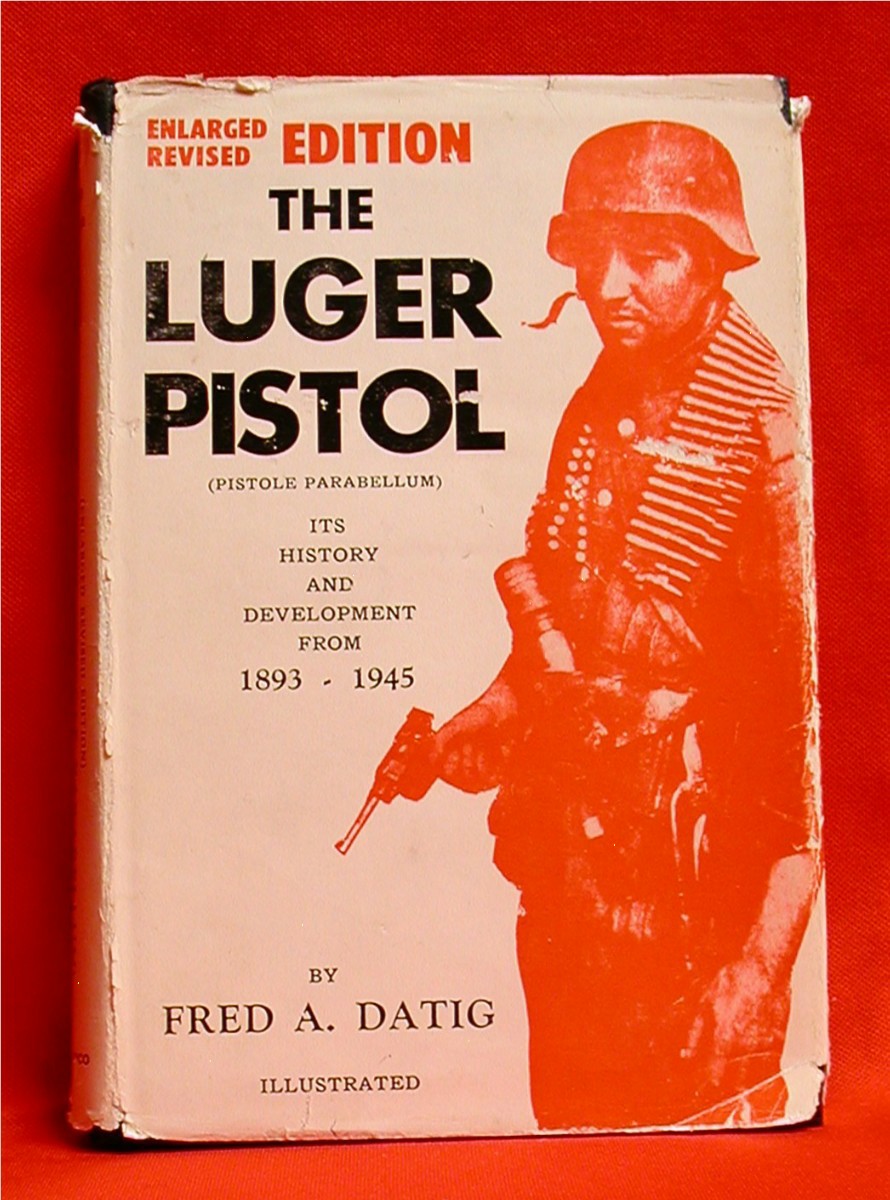 The book and pages are in excellent to fine condition. Dust jacket worn and some tears. 4th printing 1958. "Enlarged Edition"
THE NRA COLLECTOR'S SERIES by Editors of Gun Digest
1883-1888-1906-1923 (Commemorating NRA's one hundredth anniversary), soft cover, good condition.
The Golden Age of Collecting.
In color, soft cover booklet.
by Ray Saign, Richard Donaldson and Fred Feit
Copyright 1978, new in plastic wrap.
THE WESTERN PAINTINGS OF FRANK C. MCCARTHY
2nd printing, 1974. Autographed by Marty Wilke with a brief note in book from M. Wilke. Book is in excellent to new condition except for front cover upper right corner.
WINCHESTER: GOLDEN AGE OF AMERICAN GUN MAKING
& THE WINCHESTER by R. L. Wilson
WINCHESTER SHOTGUNS & SHOTSHELLS by Ronald W. Stadt
1984, 1st Edition, well written informative book, new condition.
Shipping Charges $12.00 to $27.00 depending on weight and value of book
1978 printing, new condition.
THE POST WAR COLT - SINGLE ACTION REVOLVER
New 1st edition, autographed (1978).
REMINGTON: THE GOLDEN AGE OF COLLECTING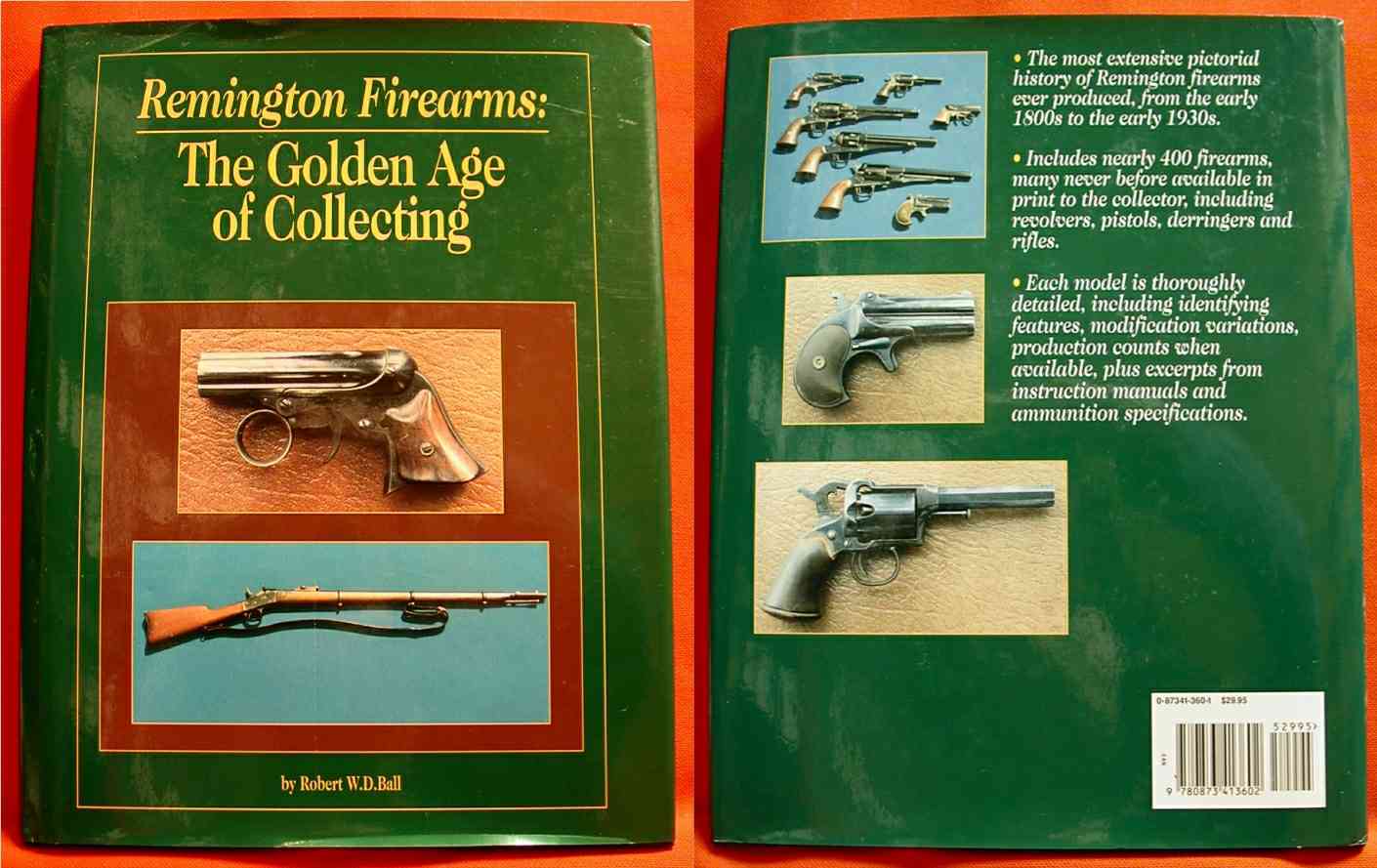 THE WEST STILL LIVES: GRANDEE by Joy Schultz
Many Grandee paintings in color, Autographed.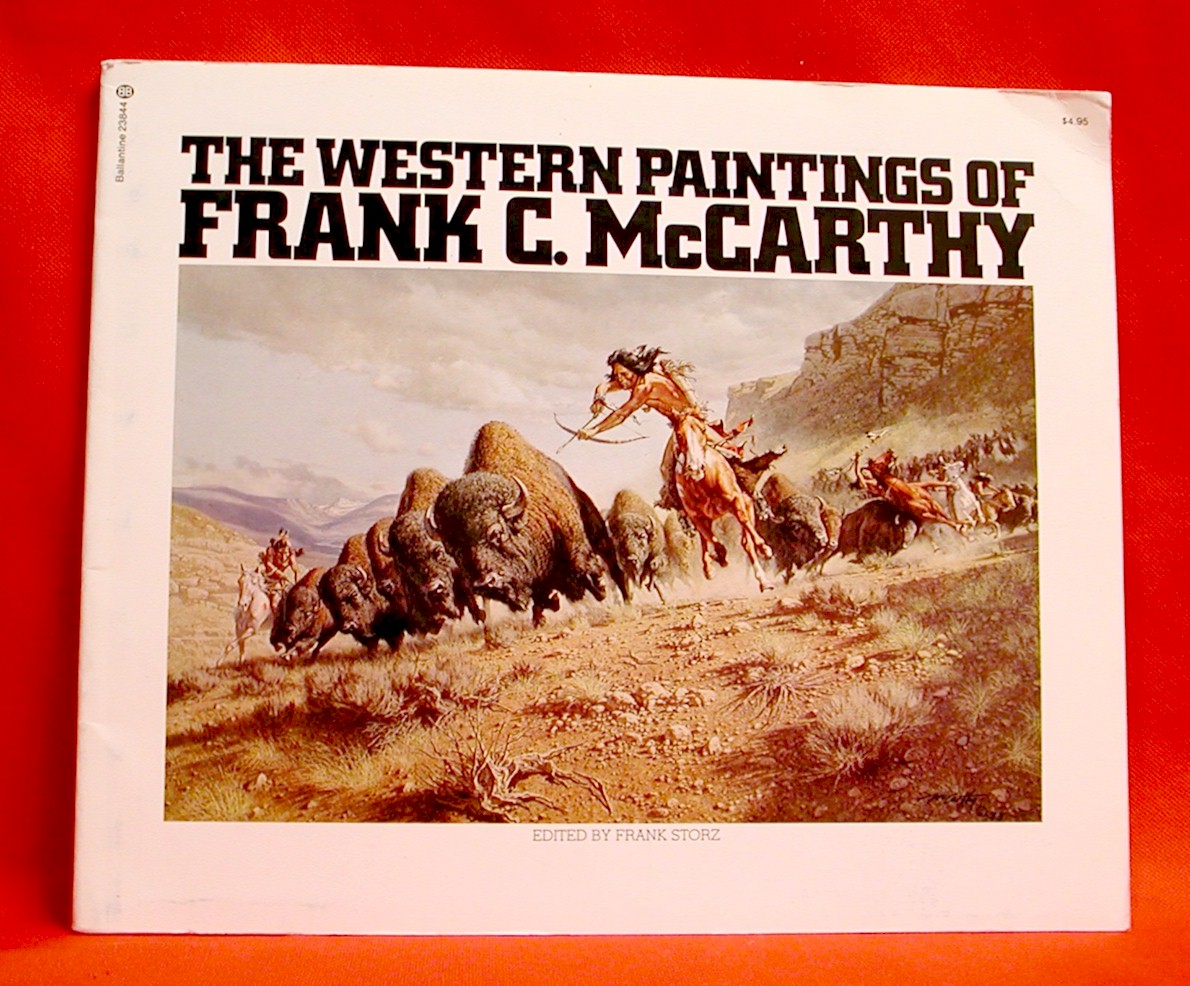 WINCHESTER, THE GUN THAT WON THE WEST