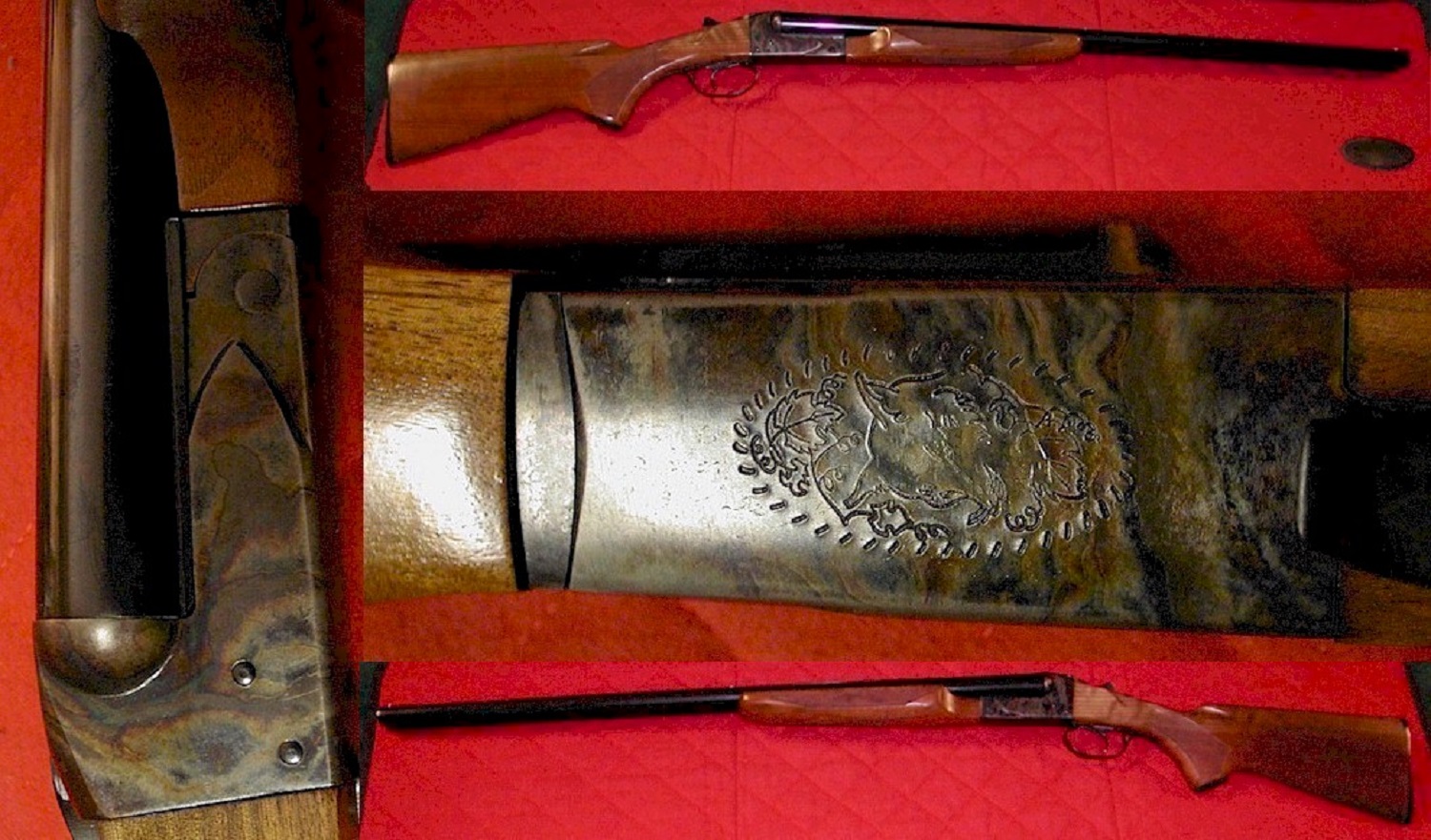 WCR019_Weatherby_Mk_V_WGR.jpg
WCH022_Walther_PPKS_in_Box.jpg
WCR019 - Weatherby Mark V (Left Hand) 300 Weatherby Magnum Cal.
2

6 inch barrel, manufactured about 1975, 97% original blue, slight wear at muzzle, bolt knob and floor plate, all original wood finish with some light handling press marks throughout, checkering as sharp as new, original Weatherby recoil pad, complete with Redfield Lo-Pro 3-9 variable scope with Buehler scope mounts.

W81000 - Fox Model BSE (Series H), SXS Double, 12 Ga.

28 inch ventilated rib barrels with center bead, modified and improved modified chokes, single trigger, auto ejectors, 98% original blue and stock finish, receiver retains 95% vivid color casehardening, with engraved fox head on bottom, cut checkering on walnut beavertail forearm and pistol grip stock, original butt plate, excellent bores, NRA very good.
W80001 - Ithaca Model 37 Featherlight (bottom load and bottom eject), 12 Ga.

2 3/4 inch chamber, 28 inch modified choke with vent rib barrel, excellent bore, with original Ray-Bar front sight. 98% original blue and wood finish, with original Ithaca recoil pad. NRA excellent.
WRS001 - Harrington & Richardson Model 58 Topper Combo
20 Ga. and 22 Hornet Cal., 2 Barrel Set

20 Ga., 3 inch chamber, modified choke 26 inch shotgun barrel and 22 Hornet cal. 22 inch rifle barrel with ramp blade front sight and adjustable folding rear dovetail sight and with factory tappings for scope base. Colorcase receiver. Straight grip butt stock with original H&R butt plate. Butt stock has a few very light press marks otherwise looks new unfired in original factory carton with owners manual. Manufactured approximately mid to late 1970's

.
(One of 5000) American Eagle
9MM Kurz (380 Auto Cal.)

98% original blue, excellent bore, checkered walnut grips, NRA excellent with black leather holster.
3 1/4 inch barrel with fixed sights, 7 round magazines - one with finger extention. As new in original box with owners manual, test target and cleaning rod

.
WCR103_Savage_99A_WGR.jpg
WCR103 - Savage 99A Series A, 308 Win. Cal.

Hammerless lever action rifle, 22 inch barrel with original iron sights, internal rotary magazine with visible counter on left side of receiver, factory drilled and tapped for scope mounts, brass cocked hammer indicator on top tang just a head of tang safety. Case hardened straight grip lever. Oil finished walnut stocks, Schnabel forearm, straight grip butt stock has original steel butt plate, manufactured about 1977. Bore excellent. Overall all original and other than a few light handling marks gun is excellent.